Yumsters are cute stretchy creatures mad about fruit and music. They have to clean up gardens from fruits to earn money for their musical band. Help them to win a major musical contest and get the Grand Prix. Eat fruit simply dragging a Yumster to a fruit of the same color. Collect a certain amount of fruit to finish a level. Help your Yumsters in concerts by catching colored notes in rhythm. As you progress, levels get more interesting more Yumsters, more fruits, and more power-ups!

Explore 57 levels.
5 musical bonus levels.
Incredible soundtrack.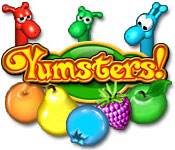 Free Yumsters Game Download